Justice and Legal Studies BA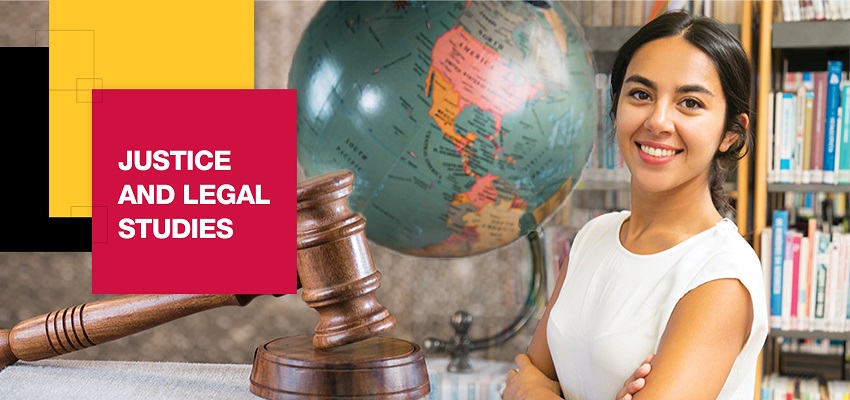 Examine law, justice and judicial processes in Canada and in a global context
---
Evaluate how justice and legal institutions both shape and are shaped by government and society. Learn how the law and legal processes can either enhance or frustrate the pursuit of justice and the goal of improving life.
The Justice and Legal Studies program (JLS) is an interdisciplinary program administered by the Department of Political Science. As such it benefits from being part of one of the premier law and politics departments in Canada.
This innovative program examines a broad range of justice and legal issues in an interdisciplinary fashion. It helps students build a foundation of understanding of the principles of law and justice. Students then choose an area of emphasis to both leverage faculty strengths and focus their studies.
Program Completion Requirements
---
5 Areas of Emphasis to Choose From
The BA in Justice and Legal Studies is an honours major. Take core courses that introduce you to law, justice and legal institutions. Examine case studies that connect to larger socio-economic and political systems. Then choose one of the following areas of emphasis:
Canadian Politics and Governance
Global Relations and Governance
Gender and Sexuality
Arts and Humanities
Business and Management
---
Law from a Political Science Perspective
Corruption, Scandal and Political Ethics
Law, Politics & Judicial Process
Comparative Law & Courts
Human Rights, Ethics and Development
Philosophy of Law
Women, Justice & Public Policy
Development, Social Justice & Human Rights
Business & Consumer Law
Law & Society
Develop critical and creative thinking skills. Learn to research a problem and reason on information. These skills, along with a global understanding and sharpened communications skills will serve you well throughout your career. In addition, gain specialized skills in legal research and an understanding of legal processes in Canada — ideal for pursuing further studies in preparation for careers in legal professions.
Sample Careers
Paralegal
Lawyer
Policy Analyst
Journalist
International Aid Worker
Public Relations Specialist
Immigration Officer
Non-Governmental Organization
Customs Officer
Government Relations
---
"Students will benefit immensely from delving into real-world cases and will have a fantastic hands-on opportunity to prepare their capstone project based on real-world scenarios."
---
Choose a Co-op option for real-world experience
The co-op program gives you the opportunity to gain relevant work experience, build professional networks and develop essential interpersonal skills needed to succeed in the workplace, all while getting paid and earning your university degree.
The JLS co-op program includes three co-op work terms in addition to eight academic semesters, for a total of four and a half years of study at the University of Guelph.
Co-op Program Completion Requirements
---
Meet Your Professor
Benefit from the expertise and individual attention of your instructors. The Department of Political Science faculty is comprised of acclaimed researchers and award-winning teachers who pride themselves on being available to you.
---
Take the next step
Start the application process and explore options for funding your education.
---
Interested in Becoming a JLS Major?
Transfers to the JLS Program are restricted to students who started their studies in Fall 2021 given the program's course sequencing. Unfortunately, we are unable to accommodate students already beyond their first year of studies.
A limited number of spots will be available on a competitive basis to students who were not admitted directly into the Justice and Legal Studies major from high school. Students who wish to be considered for transfer into JLS must apply directly to the Department of Political Science at the end of their second semester. To be eligible for a possible transfer after first year, applicants must have an overall GPA of at least 70% (minimum of 4.00 credits) and have successfully completed one of JLS*1000 Introduction to Justice & Law, ANTH*1150 Introduction to Anthropology, or SOC*1100 Sociology with a 70% GPA in the course. Students will be informed of the transfer decision by June. (
https://calendar.uoguelph.ca/undergraduate-calendar/programs-majors-minors/justice-and-legal-studies-jls/#text)
The Department of Political Science will consider applicants for transfer into the JLS program until May 15th, 2022.
1. Using an @uoguelph email address, email to JLS@uoguelph.ca with the subject line "Transfer Request"
2. Include your unofficial transcript
3. Accepted transfer students will be notified by email by June 1st
---
Get More Information
To learn more about the Justice and Legal Studies BA program, contact jls@uoguelph.ca.